JOIN THE PLASTIC-FREE REVOLUTION
For #EarthWeek, get 15% off with code EARTH15.
Valid until this Sunday, April 25th!
THE FIRST EVER ZERO-WASTE CLEANING TABLETS
Each year, household cleaning supplies create millions of tons of plastic waste and greenhouse emissions since most of them are crafted with up to 80% of water, packaged in plastic bottles.
REVOLUBARS are weightless tablets that generate 100 times less CO2 emissions from transportation. Its reusable and adaptable properties help fight against plastic production and reduce greenhouse gas emissions.
The tablets are formulated with all-natural agents that break down soil components into smaller pieces. Cultural enzymes are activated to neutralizes calcium build and eliminate bacteria without any harmful chemicals. Safe, clean, and effective in every use.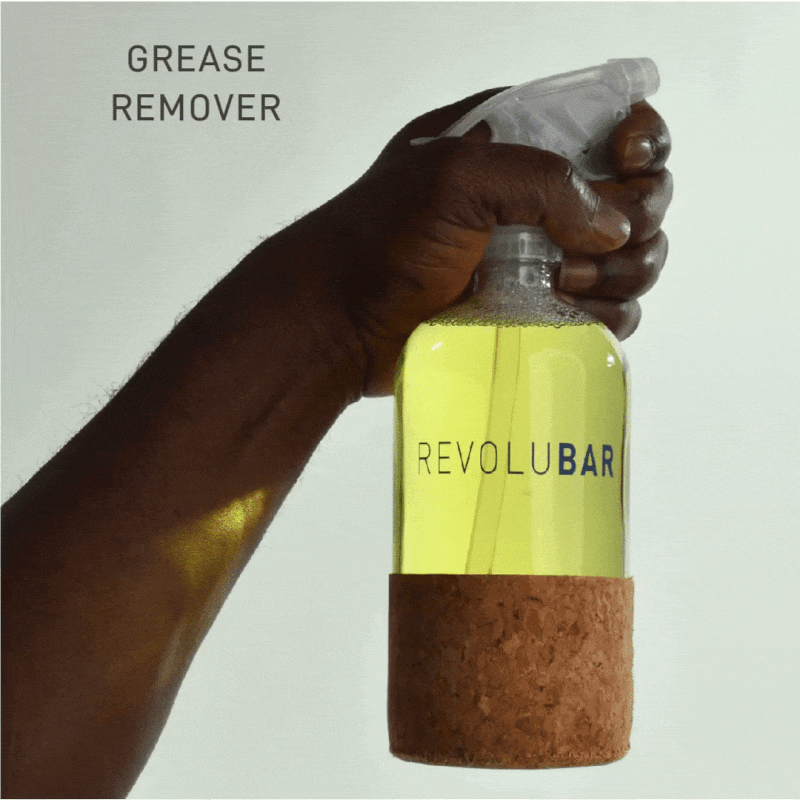 PINK - REVOLUBAR MULTI-USE
Multi-purpose cleaner for home use. It cleans all washable surfaces naturally and leaves a brilliant finish without streaks.
YELLOW - REVOLUBAR GREASE REMOVER
Cuts through grease and lightens stubborn stains, naturally. Ideal for kitchen and bathroom.
BLUE - REVOLUBAR GLASS CLEANER
Cleans and leaves glass surfaces bright and spotless, naturally.
Ideal for windows, mirrors and other glossy surfaces
Pour 500ml of hot water into a reusable spray bottle.

Insert a REVOLUBAR tablet into the bottle and let it dissolve completely.

Shake gently before use.
This combo pack includes:
Three reusable glass sprayers with cork anti-slip base

One pack (two tablets) of REVOLUBAR MULTI-USE

One pack (two tablets) of REVOLUBAR DEGREASER

One pack (two tablets) of REVOLUBAR GLASS CLEANER
​
The value of those items purchased separately is 63$ - yours for 49.99$, shipped free across Canada!
​
Let's get this revolution started - purchase REVOLUBAR today!